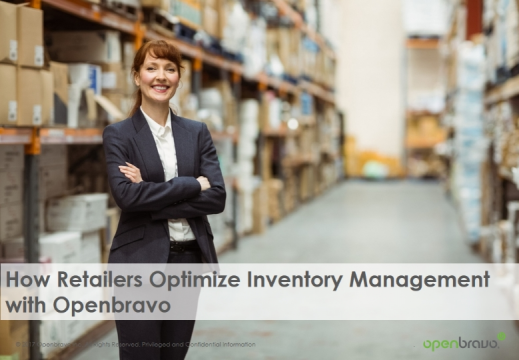 How Retailers Optimize Inventory Management with Openbravo
Improve your ROI with Openbravo's new inventory management and warehousing capabilities...
In an era of heightened consumer expectations, it is clear that retailers need to overhaul all aspects of their business to achieve a significant increase in agility and flexibility. That is particularly the case with inventory management because customers today expect greater product assortments, tighter delivery timeframes for out-of-stock items and a variety of fullfilment choices. Retailers need to adopt smarter inventory management systems that enable them to deliver the right goods at the right time and at the right cost.
This introductory presention will explain how to optimize inventory in your warehouse to satisfy customer demands while ensuring the business is not carrying excess inventory that wastes money and acts as a drag on financial performance. In a second webinar we demonstrate some the new features in Openbravo software that allow retailers to adopt sophisticated warehouse management techniques that optimize stock, space and staff use to reduce working capital requirements and so enhance financial performance.
If you wish to watch the full webinar which accompanies this presentation, please visit www.openbravo.com/resources/webinars.